Celebrate National Library Week: April 13th-19th
City of Camas National Library Week Proclamation

What can you do at the library without a library card?

Attend one of the library's many monthly book discussion groups;
Research your family tree;
Bring your children and/or grandchildren to a storytime;
Use a computer to create and print your resume;
Read our magazines and newspapers;
Look through the bargains at one of our book sales;
Use a computer to check your email;
Find new recipes;
View the artwork in the Second Story Gallery;
Ask a staff member to recommend a good book;
Watch a movie;
Research consumer information to make better decisions about what to buy;
Help your child/grandchild acquire important early literacy skills;
Use a database to find trustworthy health information;
Learn a new skill with one of the many do-it-yourself books;
Use the free wifi;
Learn more about the local community.
What can you do with a library card?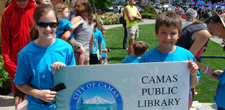 All of the above plus:
Check out the latest and greatest best sellers;
Research your family tree online from home;
Get an audiobook or eAudio book to listen to on your next trip;
Check out an eBook or eMagazine;
Request a book from another library system.
---
Library's Monthly Calendar of Events
Check the Library Newsletter for details about the upcoming events.