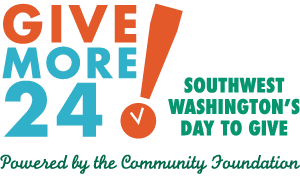 Today from 10-11am, at Crown Park, (120 NE 17th Ave), Camas Mayor pro-tem Shannon Turk and other members of city council and the parks board will be joined by members of Camas Partners for Parks and Recreation to support Camas parks, trails, and recreation programs.
Come check it out and help fill the swings!
Want to make a difference in your neighborhood? Give More 24! proves that every little thing - every person, every dollar, every second - counts when it comes to giving... back and building a vibrant community. It's also a blast thanks to matching grants, special events, prize dollars and more!
Stay up-to-date with the latest City news with the City's Facebook page - City of Camas Facebook