Mayor's Volunteer Spirit Award for November to Gene Marlow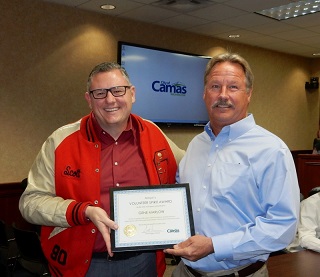 For the month of November, Mayor Scott Higgins presented the Mayor's Volunteer Spirit Award to
Gene Marlow for his on-going collaboration with local schools, churches and civic organizations,
and for his generous donations of fireworks at community events.
This monthly award recognizes exceptional effort by an individual, group, organization or business
whose selfless efforts demonstrate "the Camas-way" in meeting the needs of our community,
thereby keeping it the best place to live.
If you know of any good candidates for this Mayor's award, please provide that information and
the details to the Mayor by the 10th of every month. Call 360.834.6864, email shiggins@cityofcamas.us
or mail to/drop it off at, 616 NE 4th Ave, Camas.
Stay up-to-date with the latest City news with the City's Facebook page - City of Camas Facebook