August and September Exhibit: "Show Your Colors".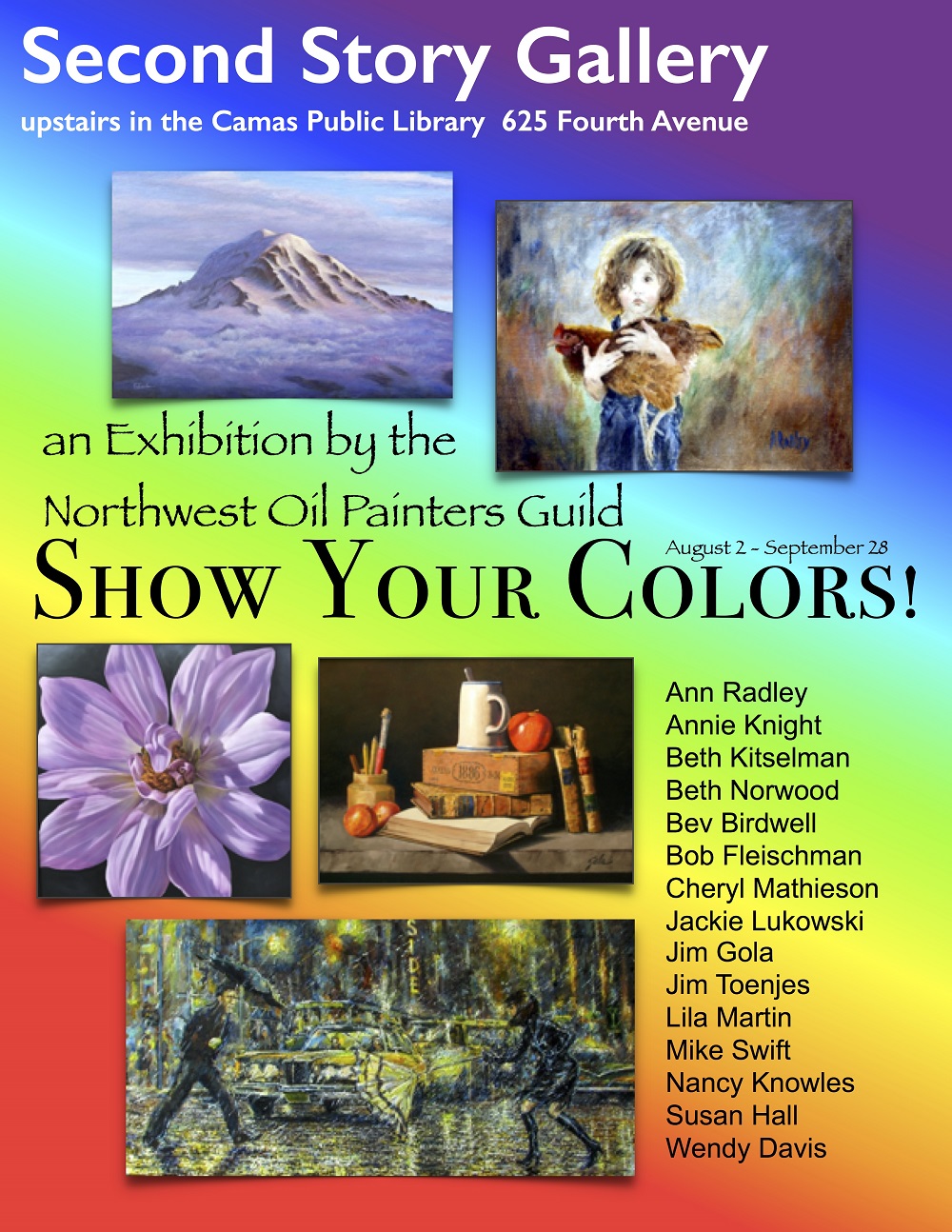 "Show Your Colors," August 2 through September 28, Second Story Gallery, upstairs in the Camas Public Library. Oil paintings, from still life to abstract to landscapes from near and far, are the specialty of the Northwest Oil Painters Guild. An extensive exhibit featuring 16 members will take over Second Story Gallery for a two-month span. Meet the artists and enjoy live music at the First Friday reception Friday August 2nd, 5pm-8pm. For the remainder of the month, the gallery is open 10 a.m. to 8 p.m. Monday through Wednesday, 10 a.m. to 6 p.m. Thursday through Saturday. 360-834-4692 625 NE 4th Avenue, Camas www.secondstorygallery.net.
About the Gallery
The Second Story Gallery is a non-profit art gallery located upstairs at the Camas Public Library. The gallery, originally launched in the early 1980's, is now managed by the Second Story Gallery Society (SSGS), a volunteer organization, in conjunction with the Camas Public Library.
The focus of the Second Story Gallery is to engage the community in the development and appreciation of the visual arts. The Society organizes monthly exhibits for display in the gallery.
Each month, a First Friday artist's reception is held where the community is invited to gather, meet, and encourage emerging artists from our local area. In addition, the gallery promotes the public's understanding and appreciation of the visual arts by fostering discussion and sponsoring lectures and other educational activities that nurture the creative spirit.
If you are an artist and would like to be considered for an exhibition, or someone looking to be involved in a local arts group, please contact a board member or visit the Society online at http://www.secondstorygallery.net/.
2019 Second Story Gallery Society Board of Governors
President: Barb Baldus
Vice President: Ardy Ogan
Secretary: Sherry McCarthy
Treasurer: Bob Burke
Ulrike Halverson