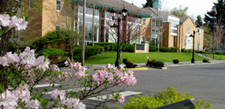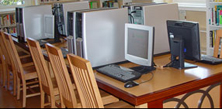 Since 1929, the Camas Public Library has been at the Heart of Camas.
From humble beginnings in a storefront on Cedar Street to the busy two-storey building today, the Library has expanded the world of possibilities for Camas citizens. The Library has been here for thousands of students doing homework, tens of thousands of pre-school kids attending storytimes, and countless scores of novel readers and information seekers checking out millions of books. The contemporary public library continues to evolve today with thousands of hours logged on free public computers, free Wi-Fi, and digital resources becoming the norm.
The library contains over 100,000 items, from the classic books to DVDs, portable MP3 devices, and useful information on just about everything. The library is virtual and provides access to downloadable eAudio and eBooks, and over 30 useful and informative databases, available from any where, any time, on any digital device.
The library expands its collections through a cooperative partnership with the Fort Vancouver Regional Library District. The library is a member of the Metropolitan Interlibrary eXchange (MIX for short), so residents of Camas can go to a library in Multnomah, Hood River, Washington, or Clackamas Counties in Oregon and get use of those libraries for free. Additionally, through World Cat the library provides access to the holdings of Washington libraries and libraries from around the globe.
Camas Public Library offers a number of special and regular events throughout the year. There are weekly story times for families, there are summer reading programs for all ages, there are special movie events, crafts for adults, art exhibits, music performances, informative programs, and more.
While here online, explore the riches. Better yet, join your friends and neighbors and visit us in person. Get involved and be a part of the Friends & Foundation or the Second Story Gallery Society. Get a free library card if you don't have one. It's your entry ticket to a magical multi-faceted place full of dreams and wonders for everyone. It's the best public library in Washington. It's Camas' Living Room.