The Engineering Division provides technical guidance and support for the various components of the City of Camas Stormwater Program. This includes the administration of the National Pollutant Discharge Elimination System (NPDES) Municipal Phase II Permit, review for stormwater compliance on all projects, inspection of stormwater facilities (both public and private), ensuring compliance with erosion prevention and sediment control standards, and investigation and elimination of illicit discharges and/or connections. For additional information, please contact Anita Ashton.
NPDES Municipal Phase II Permit
This permit is issued by the Department of Ecology and requires municipalities to meet six different criteria based on improving stormwater quality. There are two reports that are updated annually and are posted online:
NPDES Phase II Annual Report for the January - December Reporting Period
Stormwater Management Program (SWMP)
The SWMP is written documentation, required by the Western Washington Ph. 2 Municipal Stormwater Permit, of planned actions and activities for the upcoming year that addresses the components listed in Section S5 of the Municipal Permit. The basis of the plan is to improve stormwater quality through departmental coordination, public education & outreach, public involvement & participation, illicit discharge detection & elimination, controlling stormwater runoff from construction sites, and municipal operations & maintenance activities.
Stormwater Facility Design
Engineering staff reviews proposed capital, commercial and development projects for compliance with Camas Municipal Code 14.02 Stormwater Control, the Camas Stormwater Design Standards Manual, and the Stormwater Management Manual for Western Washington. The Stormwater Management Manual for Western Washingtion is available on the Department of Ecology's website at www.ecy.wa.gov.
Stormwater Facility Inspections & Maintenance
Whether public or private, stormwater facilities are inspected by the City of Camas. Maintenance is required by various property owners, such as homeowner associations, City forces, and commercial owners. The stormwater facility information can be found at www.stormwaterpartners.com or in the Camas Storm Sewer System Operation & Maintenance Manual. Click here for the Stormwater Facilities Map.
Erosion Prevention & Sediment Control
All construction projects, whether a large development or a single family home, can cause immediate and long-term environmental impacts if proper measures are not put into place to prevent soil erosion. All construction projects are required to comply with Camas Municipal Code 14.06 Erosion and Sediment Control.
Illicit Discharges
Only stormwater belongs in the storm sewer system. Care should be taken so that hazardous substances are not dumped or spilled onto roadways, or into storm facilities. All stormwater runoff eventually discharges into roadside ditches, creeks, rivers, lakes, and wetlands. Information on disposal of household hazardous waste Illicit discharges can be viewed here.

Please report any illicit discharges, spills, or contaminated stormwater runoff to:
City of Camas Hotline (360) 817-1563
City's Mobile App 'CamasConnect 24/7'
Department of Ecology SW Regional Office (360) 407-6300
Illicit discharges are prohibited under Camas Municipal Code 14.04 Illicit Discharge Detection & Elimination.
For additional illicit discharge information view the following:
City's IDDE Program Manual or the IDDE Powerpoint Presentation
Stormwater Basins & 24" Diameter Outfalls map
City's Storm Drainage System Map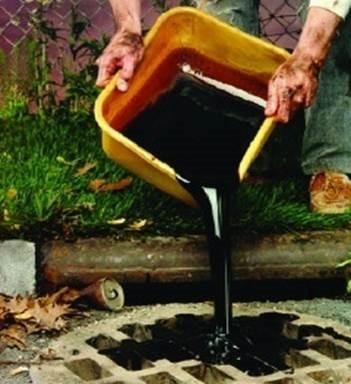 Example of Illicit Discharge