Camas - Washougal Burn Ban - Effective Immediately
Effective Immediately, all outdoor recreational burning including campfires, outdoor fireplaces and chimney-type device is prohibited by the order of the Fire Chief in the cities of Camas and Washougal. This is due to the extreme fire danger and poor air quality being experienced in the area at this time. We do not anticipate lifting this ban until a significant and sustained change in weather occurs. Cooking or fires outside with approved propane/natural gas or charcoal barbecues is still allowed. If you rent an apartment or home many landlords do not allow barbeques so check with your rental agreement first.
The county's fire marshal encouraged residents to create space around their homes to prevent wildfires from spreading to structures, or vice versa. Here are some measures people can take in rural and urban areas:
Remove fire fuels (vegetation and debris) from within 3 to 5 feet of foundations, outbuildings, garages and sheds; remove them from within 10 feet of a house and from under decks and porches; and clean out gutters and eaves.

Cut your lawn if it's brown and dispose of the trimmings.

Prune trees so the lowest branches are 6 to 10 feet above the ground.

Landscape with native and flame-resistant plants.
Save the Date!
Camas-Washougal Fire Department
Open House / Health and Safety Fair!
Saturday, September 22, 2018 from 10:00 am to 2:00 pm
Parker Street Station / 4321 NW Parker Street, Camas
Bring your friends and family and enjoy a fun and informative day at the fire station! There will be over 20 local agencies and businesses with exhibits focused on health, safety and emergency preparedness, including NW Natural who joins us again this year as part of their "Get Ready" campaign. There will be a live-fire residential fire sprinkler demonstration, cooking fire demonstrations, and car extrication demonstrations. We will also have some fun activities for the kids (balloon animals and face painting to name a few!). Free lunch will be provided! (Check back closer to the date for a detailed schedule of events.)
_______________________________________________________________________________
The Camas-Washougal Fire Department provides both fire and emergency medical services to our citizens. CWFD personnel also provide emergency medical services to citizens outside the Camas city limits along with mutual aid fire protection to neighboring departments.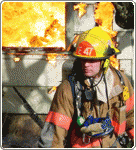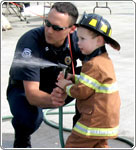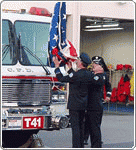 The Camas-Washougal Fire Department covers 20 square miles and over 33,000 citizens for fire protection and approximately 80 square miles containing 65,000 citizens for paramedic services. CWFD averages approximately 5,000 fire and medical calls annually.
There are currently forty four career firefighters, one chief, two division chiefs, one deputy fire marshal, four battalion chiefs, and two administrative assistants at CWFD. The department is also supported by 20 highly trained volunteer firefighters. All line firefighters are either EMT/IV Technicians or EMT/Paramedics and have high levels of training in fire suppression.
We have three fire stations, Station 41 in downtown Camas, Station 42 in the Prune Hill area, and Station 43 in downtown Washougal. These stations have 24 hour full time staffing and at least one paramedic unit at each station.
Since July 13th, 2011 the Camas and Washougal Fire Departments have been consolidated in to one agency through a contract for service. Under this agreement, both departments operate under one chief and combine all operational staffing in an effort to improve efficiency and lower expenditures.
The Camas-Washougal Fire Department is the only fire department in Clark County that provides ambulance services. This added responsibility requires our firefighters to be highly skilled in emergency services along with fire suppression techniques.