FIREWORKS 2017!
Be Safe. Be Responsible.
Use only legal fireworks purchased from a licensed stand.
Illegal fireworks are more likely to cause serious injury or death.
Always follow the directions on the labels. Light only one firework at a time, and do not re-light a "dud".
Protect your eyes and never have any portion of your body directly over fireworks.
Supervise children closely. They should not be allowed to light or play with fireworks.
Keep your pets safe indoors. Be sure your pet's collar is secure and license tag is current.
When cleaning up spent fireworks, consider soaking them overnight in a bucket of water before putting them in the trash.
FIREWORKS SAFETY BEGINS WITH YOU!

The Camas-Washougal Fire Department provides both fire and emergency medical services to our citizens. CWFD personnel also provide emergency medical services to citizens outside the Camas city limits along with mutual aid fire protection to neighboring departments.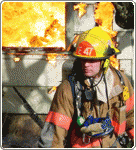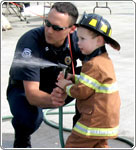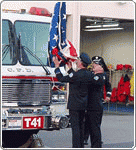 The Camas-Washougal Fire Department covers 20 square miles and over 33,000 citizens for fire protection and approximately 80 square miles containing 65,000 citizens for paramedic services. CWFD averages approximately 5,000 fire and medical calls annually.
There are currently forty four career firefighters, one chief, two division chiefs, one deputy fire marshal, four battalion chiefs, and two administrative assistants at CWFD. The department is also supported by 20 highly trained volunteer firefighters. All line firefighters are either EMT/IV Technicians or EMT/Paramedics and have high levels of training in fire suppression.
We have three fire stations, Station 41 in downtown Camas, Station 42 in the Prune Hill area, and Station 43 in downtown Washougal. These stations have 24 hour full time staffing and at least one paramedic unit at each station.
Since July 13th, 2011 the Camas and Washougal Fire Departments have been consolidated in to one agency through a contract for service. Under this agreement, both departments operate under one chief and combine all operational staffing in an effort to improve efficiency and lower expenditures.
The Camas-Washougal Fire Department is the only fire department in Clark County that provides ambulance services. This added responsibility requires our firefighters to be highly skilled in emergency services along with fire suppression techniques.